Serving as a company that contributes to the extension of the healthy lifespan of human
We plan and develop health foods and run esthetic salons, hair salons, fitness clubs and clinics. We provide our services not only in Japan, but also in China, South Korea, Hong Kong, Macao, Vietnam, Singapore, and the United States etc., not as a mere health food manufacturer, but to extend the healthy life span of human beings with our "inner beauty = a true cell level based health of inner organs / intestines" method.
Year of Birth: 1968
Birthplace: Kanagawa
Name: Pro Labo Holdings Co.,Ltd.
Headquarters: THE ITOYAMA TOWER 7F, 3-7-18 Mita, Minato-ku, Tokyo
Founded: 2002
Type of business: Plan development of health foods / cosmetics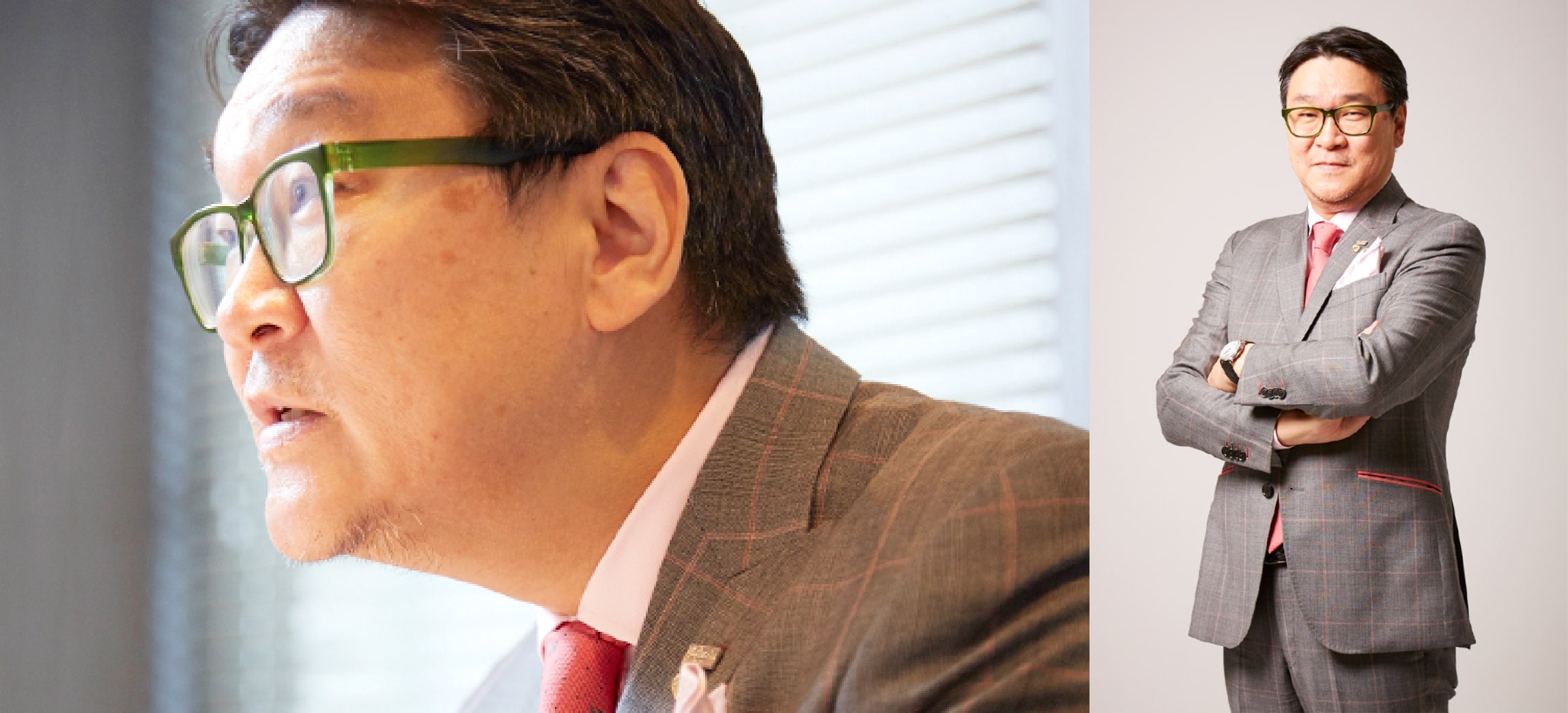 Currently, health life expectancy is a problem globally. There are many patients worldwide with cancer, diabetes, hypertension, strokes, and heart diseases not only in Japan, Europe and the United States, but also in countries where remarkable progress has taken place in recent years such as Vietnam. That is why it is essential to extend the healthy life expectancy through the 'inner beauty = true cell level health based on enzyme nutrition and intestinal health" method, and we have expanded our business in a global market with such visions.Our brand was born in 2007. The "Esthe Pro Labo", a high quality inner beauty product exclusively for salons, has especially been popular, and not only is it being used in over 12,000 aesthetic salons, hair salons, and clinics nationwide, but it is also being used by global models, TV talents, and athletes. In addition to this, many other popular products from our company have been announced, such as the enzyme fasting diet assisting foods focused on enzyme nutrition, "Fast pro-meal", "Herbzyme 113 Granpro series", and "Fast Pro Water".
However, we are not only merely selling products. We think that it is important that education on diet and nutrition is carried out, and that people understand the fact that "exterior beauty is achieved only with healthy intestines and organs". The means to make this happen is inner beauty.
Currently, food source diseases are being improved worldwide, whereas in Japan it appears that the awareness of food source diseases is still not high at all. For example in other countries, the prohibition on the use of trans fatty acids is gaining momentum, whereas in Japan there are many foods still using trans fatty acids. With this background, the number of patients with lifestyle diseases, which are considered to be caused by meals, has increased, and medical expenses have soared. The budget amounts to over 40 trillion yen per year.
Why are diseases not going away even though medical technology is advancing? The reason is that the causes of these diseases lie in the diets. That is why as a brand of inner beauty we hope to contribute to the extension of the healthy lifespan of human beings, by reducing food source diseases by providing positive items for the body and intestines.
In fact, there is data in the United States that clarifies the relationship between food and diseases. In 1970 in the United States, an increase in the number of cancer patients raised medical expenses, pressured finances, and the government was struggling to solve the problem. The "McGovern report" was reported at this time. According to the report, it turned out that the cause of cancer, heart diseases, diabetes etc. was the modern diet.
So, the United States tackled the improvement of diet as a country, and became the only developed country that saw a decline in the growth rate of cancer. Apparently the model meals that they used was the Japanese diet of the Genroku Era. Currently in Japan, the idea of self-medication which prevents diseases in advance by controlling diet and lifestyle has been drawing attention. This trend should spread further to the world in the future. Within this trend, it seems likely that people's awareness of inner beauty will naturally increase.
Our efforts in recent years include the establishment of the Inner Beauty Medical Foundation that conducts research on inner beauty, preventive medicine, fasting, etc., and the opening of the Granpro Clinic Ginza with the aim to contribute to the extension of the healthy life expectancy of human beings through medical treatment. In addition, we developed a new sister brand "Prolabo Concept" for overseas, and have also been selected by Alibaba, attracting attention right from the jump.
However, we are still only at the 2nd level. The base of business is people. What is the business for, and for whom? We must never lose sight of this. I would like to steadily develop my brand by first raising people, and become number one in Asia, and eventually become number one in the world.
---